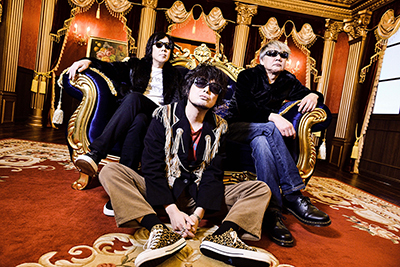 the pillows : Sawao Yamanaka (Vocal, Guitar) / Yoshiaki Manabe (Guitar) / Shinichiro Sato (Drums)
Biography
The pillows was formed in 1989 and ever since the CD sales and live mobilization have grown enormously. The album that was released in 2007 recorded the best sales ever in their history. The live tickets of a venue with 3,000 capacities have sold out, and the 2007 Japan tour tickets have also sold out in all 25 places. They have played as the main act in major summer festivals in Japan. The single "Ride on shooting star" released in 2006 was used for a new animation "FLCL" theme song, which is made by the animation company "Evangelion." Around then, the pillows started to get a lot of live performance offers from US. In 2005, they toured in US from the first time. Without any advance promotions, they gathered 500 people for each lives in New York, Seattle, Los Angels, San Francisco, and Texas (SXSW). At the Animation Convention in Chicago, in 2 days they brought 4,000 together. In New York, they gathered 700 in the Knitting Factory. Also in the 2006 Anime Convention in Mexico, 3,000 people attended within the 2 days of the event. By the result of releasing "FLCL" DVD in Europe and Asia, the pillows became a famous topic among UK, France, South Korea, Taiwan and Australia. They joined myspace in February 2006, and since it's start, the number of friends has been adding 1000 every month. Most of their friends are from outside of Japan, and at the present, they have 15,000 people. CD Sales: The album released in 2006 made the best sale. Their best album and tribute album sold more than 100,000 units. Live: They toured in Japan for 23 gigs in 2006 and sold all the tickets for 20,000 people. And for the tour final in Zepp Tokyo, 2600 tickets got all sold out in 30 minutes. In 2007' tour, they gathered 30,000 people. Event: In 2007, they were offered by the big event, Summer Sonic, Rising Sun, and ap-bank that gathered 30,000 people in total. Popularity: -2,0000 accesses on their home page per day -Mr. Buster the bear goods sold about 40,000,000 JPY for the year -Their music scores have sold more than 10,000. -More than 2,000,000 hits on Google.
DELICIOUS LABEL RELEASE
–
OFFICIAL SITE
the pillows official web site *I'm sorry, Japanese only.